Ansible By Example(s) is a practical book series created by Luca Berton to guide DevOps, SRE, and IT professionals to automate the Ansible open-source technology to automate your modern IT infrastructure. From the great success of the Ansible Pilot project.
Ansible for VMware by Examples #
A Step-by-Step Guide to Automating Your VMware Infrastructure
Published ✅ 3rd December 2022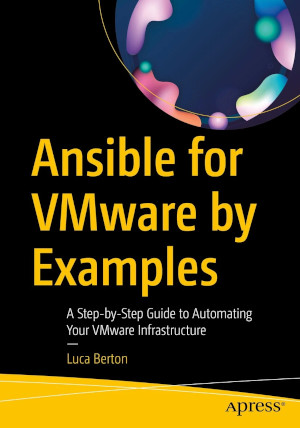 Automate your VMware infrastructure using Ansible code
Install Ansible in operating systems such as RedHat, Ubuntu, Fedora, etc.
Write and execute your first Ansible Playbook code
Troubleshoot the most common error messages
Buy on Apress
Buy on Amazon
Ansible for Kubernetes by Example #
Automating your Kubernetes Cluster with Ansible
Published ✅ 11th May 2023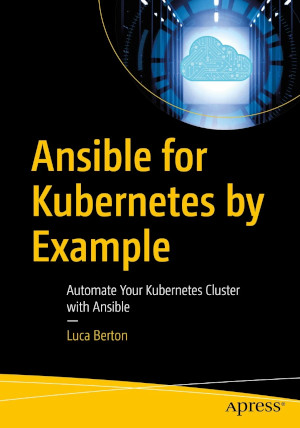 How to automate Kubernetes pods, services, and storage with Ansible
Learn to automate Kubernetes cluster management with Ansible
How to automate Kubernetes cloud services such as Amazon Elastic Kubernetes Service (EKS), Google Kubernetes Engine (GKE), and Azure Kubernetes Service (AKS) with Ansible
Understand Ansible troubleshooting
Buy on Apress
Buy on Amazon
About the author #
Luca Berton
is an Ansible Automation Expert who has been working with JPMorgan Chase & Co., previously has worked with the Red Hat Hat Ansible Engineer Team for three years. Creator of the
Ansible Pilot
project. With more than 15 years of experience as a System Administrator, he has strong expertise in Infrastructure Hardening and Automation. Enthusiast of the Open Source supports the community sharing his knowledge in different events of public access. Geek by nature, Linux by choice, Fedora of course.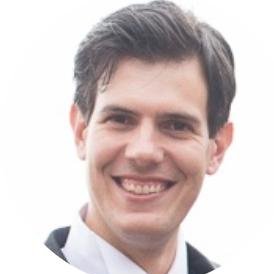 Newsletter #
Feedback #
So I'm reading this this morning:
Ansible for VMware by Examples by @mrevolution85https://t.co/FGHUiODPYg

What Will I Learn
✅How to automate your infra using Ansible
✅How to automate VM creation deletion, manage
✅How to generate reports of from Data Centers, Clusters, VMs

— Shinya Yanagihara (@yanashin18618) December 30, 2022